Real Time Solar Power Monitoring – Choosing The Right Monitoring System
Real Time Solar Power Monitoring: Solar power is a clean and renewable energy source that has gained significant popularity in recent years. As more individuals and businesses embrace solar energy, it becomes crucial to monitor and optimize its performance. A real-time solar power monitoring system provides valuable insights into the generation and consumption of solar energy. This article will guide you through the process of setting up a real-time solar power monitoring system, highlighting its benefits and key components.
I. Introduction
Real-time solar power monitoring is a pivotal tool for the renewable energy sector, enabling meticulous management of solar energy systems. Understanding the status of a solar power plant in real time allows for swift identification and resolution of issues, optimisation of energy production, and accurate planning of maintenance activities.
A system such as Retgen, developed by Rast Teknoloji, brings the power of cloud-based technology to the monitoring and management of renewable energy plants. It's flexible, scalable, and supports different brand and model inverters, making it suitable for a wide range of solar energy systems.
II. How Does Real-Time Solar Power Monitoring Work?
A typical real-time solar power monitoring system, like Retgen, involves a myriad of components working in harmony to ensure optimal operation. The process begins with sensors and data collection devices which are used to measure various parameters such as sunlight irradiation, temperature, and power output.
The data collected by these sensors is then transmitted via communication protocols to a central system where it's processed and analysed. This cloud-based infrastructure allows users to monitor and manage their renewable energy plants remotely, ensuring that the maximum performance is achieved. With Retgen's user-friendly interface, users have access to real-time network tracking and past-date analysis.
III. Choosing the Right Monitoring System
When it comes to selecting a real-time solar power monitoring system, several factors need to be considered. These include the system's compatibility with the existing infrastructure, its scalability, cost-effectiveness, and the range of features it offers.
Retgen, with its robust and flexible structure, serves as an excellent choice. It does not require additional hardware for integration, reducing the overall costs. It supports inverters of various brands and models, making it highly adaptable. Furthermore, Retgen's advanced features, such as real-time analysis, workforce management, remote control capabilities, and preventive maintenance services, make it a comprehensive and powerful solution for monitoring and managing renewable energy plants.
IV. Setting Up a Real-Time Solar Power Monitoring System
Setting up a real-time solar power monitoring system involves a number of steps, beginning with the placement and calibration of sensors and data collection devices. These devices play a crucial role in capturing the real-time data that is at the heart of the monitoring system.
Once the hardware is in place, the next step involves configuring data acquisition and visualization software. This software plays an integral role in translating raw data into actionable insights. With the cloud-based Retgen system, setting up a monitoring system becomes a more streamlined process, as it doesn't require additional hardware for integration and supports different brands and models of inverters.
V. Key Metrics and Parameters Monitored in Real Time
An effective solar power monitoring system should be capable of tracking a variety of key metrics and parameters in real time. These typically include power generation, power consumption, and the status of battery storage. It may also monitor environmental conditions such as sunlight irradiation and temperature, which can significantly impact the performance of the solar power system.
With Retgen's real-time monitoring and analysis feature, users can access these key parameters in real time and on a historical basis. This not only aids in identifying immediate issues but also helps in understanding long-term performance trends and making informed operational decisions.
VI. Data Analysis and Reporting
Data analysis plays a significant role in real-time solar power monitoring, as it aids in evaluating system performance, identifying trends, spotting anomalies, and determining potential issues. By continuously analyzing data from solar power plants, systems like Retgen can optimize performance and prevent system wear, resulting in savings on labor and damage costs.
Another important component is reporting. Comprehensive reports based on collected data can be generated, providing valuable insights into daily, monthly, and annual production, among other things. Retgen excels in this area by providing detailed reports that can be delivered in real-time or periodically, ensuring that users have all the information they need at their fingertips.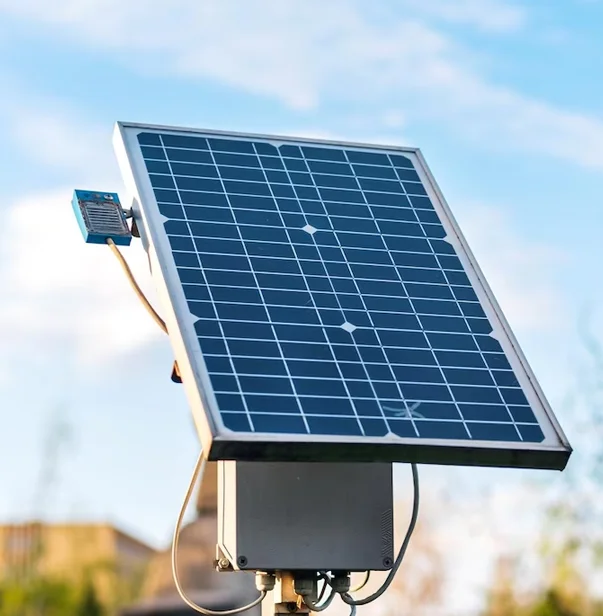 VII. Integrating Real-Time Monitoring with Energy Management Systems
Integration of real-time monitoring with energy management systems opens up a realm of possibilities for efficient energy use. Solar power monitoring systems not only track energy production, but also provide the means to control and optimize power usage based on real-time data insights.
Retgen, with its advanced feature set, enables operators to remotely intervene based on the signals received. This cloud-based monitoring system supports remote control and interference, saving time and extending the lifespan of equipment. Additionally, Retgen provides flexibility in defining actions based on end-to-end data received, supporting features like SMS, Telegram, and Email notifications.
VIII. Maintenance and Troubleshooting
Maintenance is an essential aspect of ensuring the longevity and effectiveness of a solar power monitoring system. Regular maintenance practices include periodic calibration of sensors, cleaning, and system checks to ensure reliability.
Troubleshooting common issues and faults becomes a simpler task with real-time monitoring systems like Retgen. Its preventive maintenance services analyse data to reduce damage loss, prevent wear and tear, and save on labor. This approach ensures the system's smooth operation, increasing the overall system reliability and effectiveness.
IX. Security and Data Privacy Considerations
Real-time solar power monitoring systems, being connected networks, come with their own set of security challenges. Therefore, it's vital to implement stringent security measures, including encryption and authentication measures, to safeguard the system from potential cyber threats.
Protecting sensitive data and ensuring privacy compliance is also a critical consideration. Cloud-based systems like Retgen need to ensure the secure storage and transmission of data. Although the specifics of Retgen's security and privacy measures aren't mentioned in the brief, it's essential for such systems to have robust security and data privacy practices in place to earn users' trust and meet regulatory requirements.
X. Future Trends in Real-Time Solar Power Monitoring
The future of real-time solar power monitoring is promising, with emerging technologies and advancements set to transform the sector. Artificial intelligence (AI) and machine learning (ML) are poised to take center stage, promising more precise and predictive monitoring, enabling operators to make more informed decisions and further optimize their solar power plants.
While it's not explicitly stated whether Retgen uses AI and ML technologies, considering the rapid evolution of the renewable energy sector and the growing prevalence of these technologies, their inclusion could be a future enhancement to keep an eye on.
XI. Case Studies and Success Stories
Examining real-world implementations of successful solar power monitoring can provide valuable insights into the practical benefits and outcomes achieved. From optimizing energy production to reducing operational costs and mitigating potential issues before they become significant problems, the potential advantages are numerous.
Though specific case studies related to Retgen weren't provided, it's fair to speculate that users of this cloud-based system would have experienced substantial benefits, such as real-time insights, optimized performance, reduced costs, and effective maintenance, given the features and functionalities it offers.
XII. Conclusion
In conclusion, real-time solar power monitoring plays a pivotal role in enhancing the efficiency and sustainability of solar power systems. By providing live tracking, analysis, effective maintenance, and data security, systems like Retgen prove invaluable to operators of solar power plants. The adoption of such monitoring systems should be encouraged to optimize the use of renewable energy, drive operational efficiency, and promote sustainability on a global scale.
Frequently Asked Questions (FAQ)
Yes, the Retgen system is suitable for all renewable power plants, such as solar power plants, hydro power plants, wind power plants. Thanks to its cloud-based structure, it has a scalable and flexible structure and supports different brands and models of inverters.
Retgen has an effective workforce management system. Special alarms and work orders can be assigned to switchboards and these processes can be managed through mobile applications. This allows technicians to define action step-by-step and enables processes to be managed effectively.
Retgen continuously analyzes the data received from the exchanges and thus ensures maximum performance. It can also generate detailed reports based on received data. These reports include daily, monthly and annual production reports, reactive penalty reports, work order process reports, CO² emissions and more. Reports can be presented instantly or periodically.